After my
surf sesh in Baler
, I decided to try another surfing lesson in La Union. I stayed at the Circle Hostel located along Mc Arthur Highway in Urbiztondo Beach, San Juan, La Union. The hostel is located behind Urbiztondo Grill (the grill is located across San Juan Surf Resort).
It was my first "solo" trip and I would really like to thank my parents for allowing me to travel alone.
Getting there:
Partas Bus Lines terminal in Cubao - Ride a Vigan bound bus and tell the conductor to drop you off at Urbiztondo Grill or San Juan Surf Resort in La Union (they already know where it is). The hostel is just right behind Urbiztondo Grill.
The Hostel:
I paid for the bunk bed which costs 400 pesos per night. They have separate dorm-type rooms for girls and boys. There's also a common bath separated for girls and boys. The hammock costs 300 pesos. Even though I paid for the bunk bed, I decided to sleep in the hammock. Sleeping in a hammock was really uncomfortable because my legs were resting higher than my body. I really don't know how
James Betia
managed to sleep in hammock during his trips. Hahaha.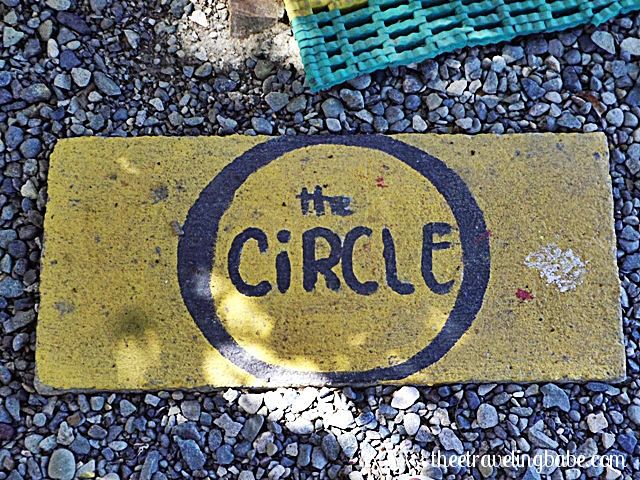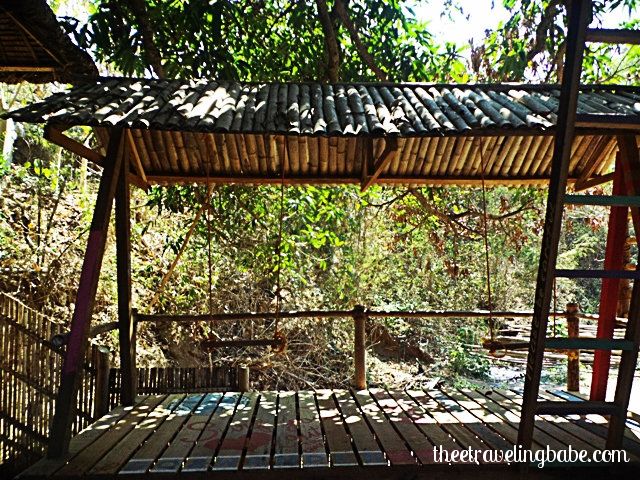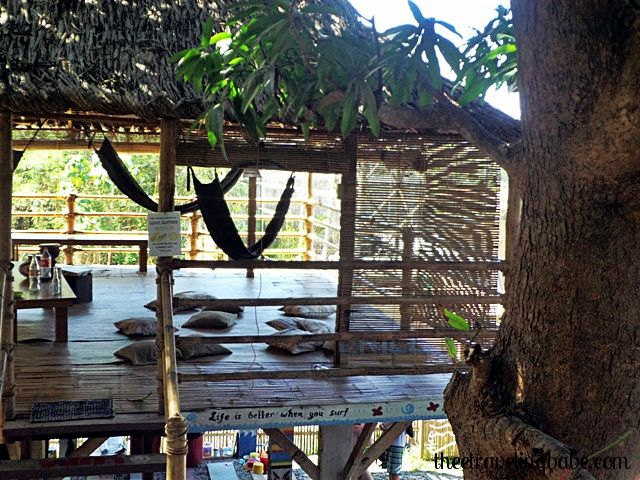 They have the common area, where you can charge your cellphone or digicam battery, meet new friends, drink beer and just relax.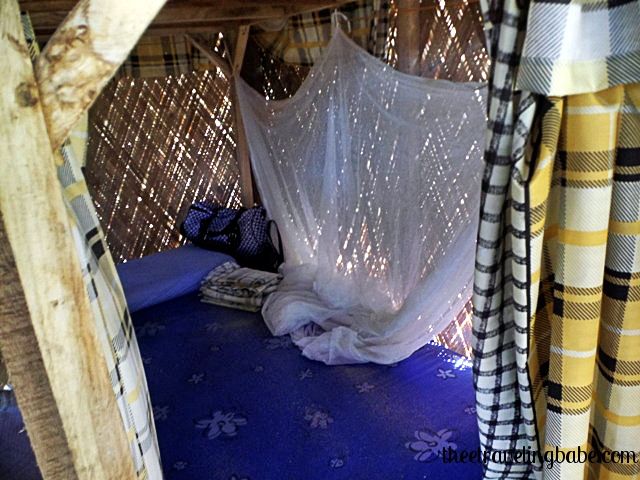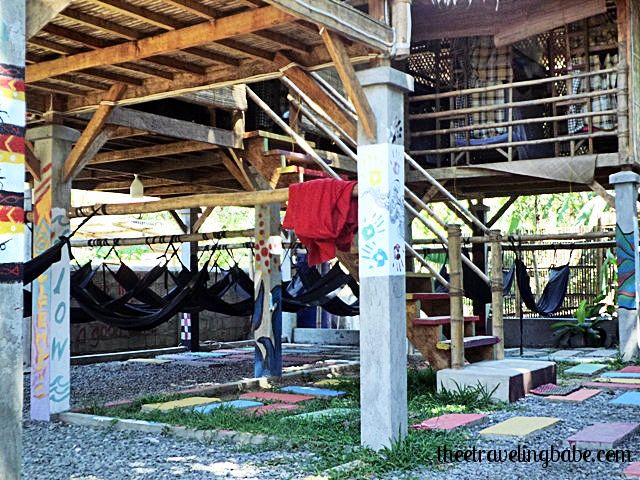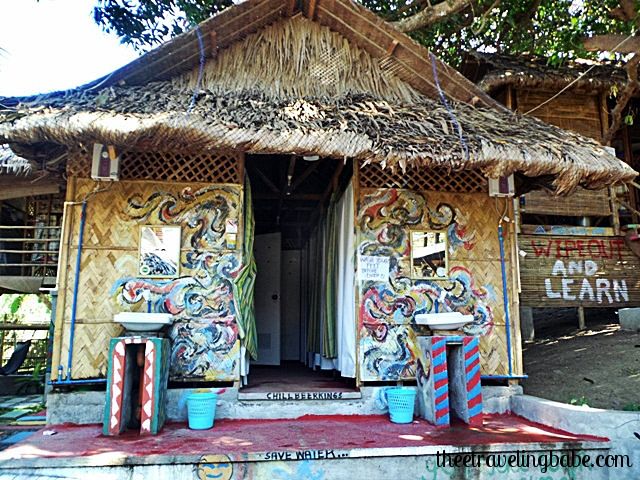 shared bath (left side for women and right side for men)
drinking with my surf instructor and Maribel, the hostel's receptionist (with my oily face)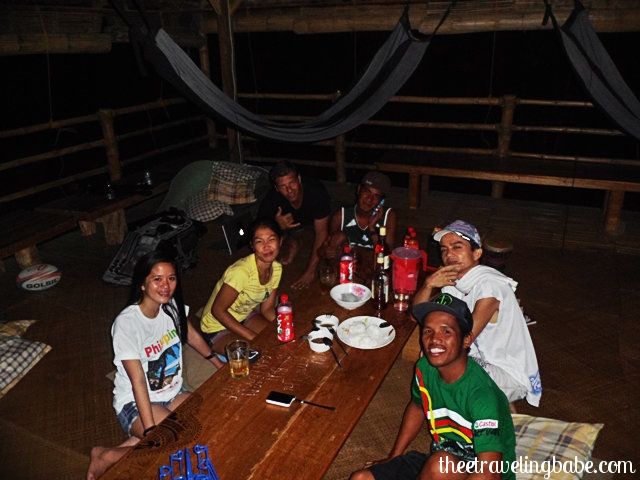 drinking with the locals & Craig
Surfing:
There are surf lessons offered at the beach front. (Nasa kabilang side yung Hostel, so make sure you wear a cover up before hitting the beach because you actually have to cross the highway before you reach it.)
Cost: 200- 1 hour surfboard rental only
400- 1 hour surfing lesson w/ surfboard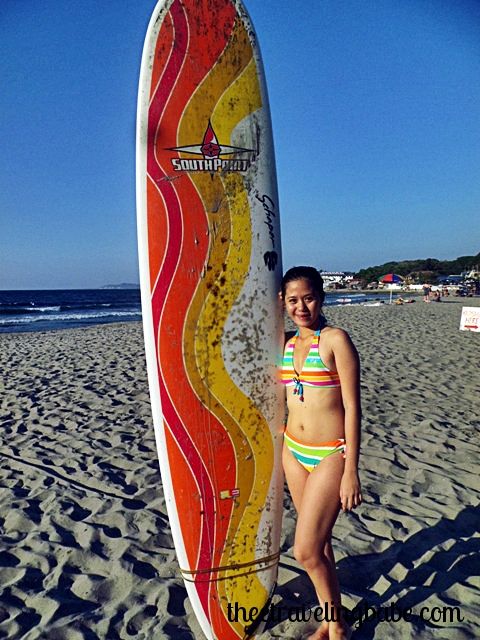 my swimsuit and the surfing board! (something's not right with the color..)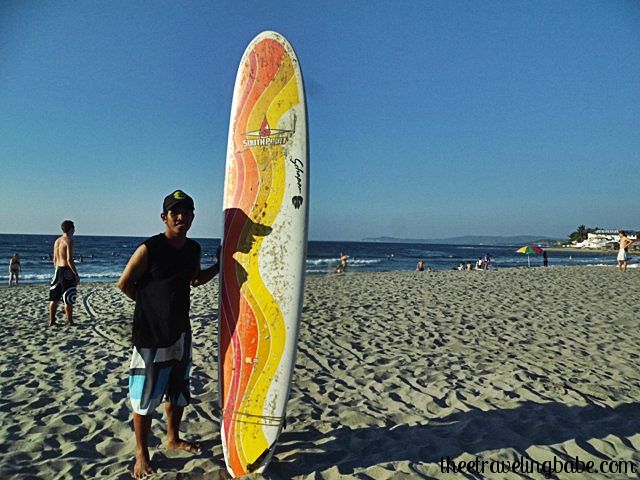 I had my lesson at San Juan Surf Resort and Kuya Rey was my instructor. Sadly, no one was there to take pictures of me surfing. Kuya Rey taught surfing lessons in Club Manila East (Taytay, Rizal) before.
Sunday is the perfect time to surf.
Where to Eat:
ANGEL AND MARIE'S SURFER'S RETREAT
Blue Marlin Kilawin is a must-try! "Kilawin" is a Philippine exotic delicacy served with raw fish mixed with vinegar. It was my first time to eat raw fish (because my momma told me not to eat raw foods when I'm in a different place) and at first I thought I would not enjoy the dish. This has got to be one of the best seafood I've ever tasted. One serving costs around PHP170.00+. I shared this dish with another friend, Craig Pulsifer.
URBIZTONDO GRILL AND RESTAURANT
The foods were reasonably priced and they serve seafoods, as well. I spent around PHP 200.00 for the meal (grilled squid, rice and soda).
Total estimated cost of damage (in Philippine peso): PHP1700
Bus to La Union- 500
Lunch at Urbiztondo Grill- 200 (est.)
One night at The Circle Hostel- 400 (bunk bed)
Dinner at Angel and Marie's Surfer's Retreat- 200 (est.)
1 hr. Surfing Lesson- 400
I didn't take the bus from La Union to Manila, because I did a side trip to Vigan (it's another story) before going back to the city. So, probably you'll be spending less than
PHP2,500 for 2 days and 1 night stay in La Union.